If someone had asked any local music fan ten years ago, who was the leading gospel artiste in Guyana, their answer would most likely have been "Eion Greaves". Ten years on, the man who played an instrumental role in transforming the local gospel music industry, is in another country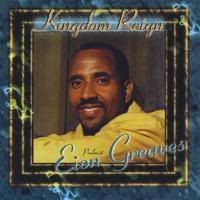 but is still spreading his message of God's love. The singer, who gained popularity locally with his album 'Restoration' which included the hit tunes "I Have a Plan" and "Restoration", is currently residing in Maryland, USA. He has been living there for the last eight years with his wife Kim and children. In a recent interview with The Scene, Eion Greaves spoke at length of God's goodness to him since his migration. He said when he first arrived in the USA it required readjustment as it was a bit difficult in a country where people had a different interpretation of Christianity from what he had been accustomed. However, he said, one of his mottos is: "If you don't see a model be a model" and that is what he has attempted to be.
Prophet Eion is the founder and senior pastor of Kingdom Reign Ministries International; MD, USA. KRMI is an apostolic and Prophetic Arm of the body of Christ whose purpose is to bring the glory of God through worship to the Earth, and to (impart) and raise up those in the music and arts ministries. Kingdom Reign Ministries was birthed by the spirit of God, and started in 1985 when the Psalmist Eion Greaves from Georgetown Guyana, South America embraced the call of God on his life to Worship Beyond the Veil.
Through this ministry, many nations have been blessed, and impacted: Guyana, S. A., Suriname, Trinidad and Tobago, Jamaica, Antigua, Barbados and many cities throughout the United States. Kingdom Reign Ministries is a prophetic voice that ministers over Nations, Ministries, and people's destinies and brings them into their rightful place in God.

Pastor/Prophet/Psalmist Eion Greaves is called to speak governmentally to leadership regarding the music and art ministries throughout the body of Christ. When listening to the ministry of this Prophet one cannot help but be drawn into the very presence of almighty God and experience permanent change.
Prophet Eion For HIM (His imperial majesty) AMEN
If you enjoy the music being ministered on my page you may purchase a copy of the CD by contacting Prophet/Psalmist Eion Greaves, 240-671-1994.