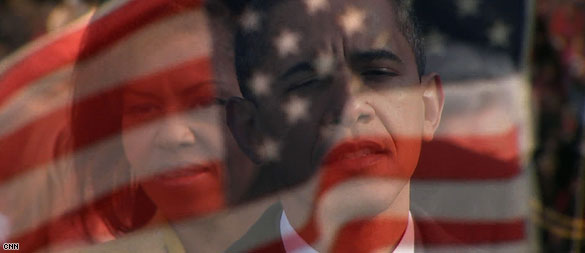 WASHINGTON (CNN) -- Barack Obama delivered a sobering assessment of where America stands and a hopeful vision of what it can become during his inaugural address as the nation's 44th president.
President Barack Obama told a crowd at the National Mall that America's challenges are real.
"Today I say to you that the challenges we face are real. They are serious and they are many. They will not be met easily or in a short span of time," Obama told those gathered on the National Mall -- a crowd estimated at about 2 million -- and millions more watching on television and the Internet.
"But know this, America -- they will be met," he said.
Obama acknowledged the "nagging fear" of an imminent decline of the U.S. He firmly asserted that Americans were up to reversing the trends spawning that fear, whether they be social, economic or political.
"Greatness is never a given. It must be earned," he said, further proclaiming that people who question the scale of U.S. ambitions "have forgotten what this country has already done."
His administration will "begin to responsibly leave Iraq to its people and forge a hard-earned peace in Afghanistan," Obama said, adding that he intends to engage the Muslim world in a "new way forward, based on mutual interest and mutual respect." Video Watch two-pronged message »
"America must play its role in ushering in a new era of peace," he said.
He also vowed to end the divisiveness and partisanship he said was rampant through Washington.
"We come to proclaim an end to the petty grievances and false promises, the recriminations and worn-out dogmas that for far too long have strangled our politics," he said. Video Watch Obama say Americans chose hope »
In another allusion to Washington's shortcomings, Obama promised to hold accountable anyone handling taxpayer dollars.
"And those of us who manage the public's dollars will be held to account -- to spend wisely, reform bad habits, and do our business in the light of day -- because only then can we restore the vital trust between a people and their government."
The new president also lauded the civil rights movement that ultimately made his election possible. Because of that movement, he said, "a man whose father, less than 60 years ago, might not have been served at a local restaurant can now stand before you to take a most sacred oath." Video Watch Sen. Dianne Feinstein open the swearing-in ceremony »
Obama also said he would incorporate "old friends and former foes" in the battle to curb global warming and stave off the nuclear threat.
To terrorists, he spoke directly: "For those who seek to advance their aims by inducing terror and slaughtering innocents, we say to you now that our spirit is stronger and cannot be broken; you cannot outlast us, and we will defeat you," the president stated.
After the speech, spectator L.J. Caldwell said the moment represented the pinnacle thus far in the civil rights movement.
"When you think back, Malcolm [X] fought. Then we come a little further, Rosa Parks sat. Then come up a little further and [the Rev. Martin Luther King Jr.] spoke. Then today, President Obama ran and we won," said Caldwell, of Somerset, New Jersey.
Wearing a navy suit and red tie, Obama was sworn in using the same Bible that was used in President Abraham Lincoln's inauguration.
The jubilant crowd became quiet as Obama began his address, with only an occasional "That's right" or "Amen" and scattered applause from the hundreds of thousands in front of him.
Saddleback Church founder Rick Warren delivered the invocation, applauding what he called "a hinge-point in history." Civil rights veteran the Rev. Joseph Lowery gave the benediction.
Aretha Franklin sang "My Country 'Tis of Thee" before Joe Biden was sworn in as vice president. Video Watch Obama's grand entrance »
Following the inauguration ceremony, Obama walked into the Capitol and signed his Cabinet nominations -- which the Senate will vote on when it convenes at 3 p.m. -- and signed a proclamation of national renewal and reconciliation.
"I was told not to swipe the pen," Obama quipped after signing the document, similar to proclamations signed by the last three presidents.
Hundreds of thousands of people gathered on the National Mall -- dancing, singing and vigorously shaking flags -- before Tuesday's swearing-in.
"This is America happening," said Evadey Minott of Brooklyn, New York. "It was prophesized by King that we would have a day when everyone would come together. This is that day. I am excited. I am joyful. It brings tears to my eyes."
Minott was at Lafayette Square near the White House, where Obama and his wife, Michelle, had coffee with President Bush and first lady Laura Bush before heading to Capitol Hill.
The Obamas attended a prayer service earlier at St. John's Episcopal Church to kick off the day of events surrounding Obama's inauguration.
As many as 2 million people were expected to crowd into the area between the Capitol, the White House and the Lincoln Memorial.
Gerrard Coles of Norwalk, Connecticut, had staked out a position in front of St. John's.
"I think this was a beautiful thing," he said. "It's not every day that you get to be a part of history."
Nine-year-old Laura Bruggerman also hoped to catch a glimpse of the soon-to-be president. She waited with her mother, Wendy, and father, Jeff, of Bethesda, Maryland, amid an affable crowd that tried to let shorter onlookers and children to the front for better views.
"I want to see Obama. I think that would be really cool. I could tell all of my friends that I got to see him," the youngster said.
Some spectators were more than a mile from the swearing-in ceremony, watching on giant TV screens erected along the National Mall. The ceremony also drew celebrities like actors Dustin Hoffman, Denzel Washington and Steven Spielberg.
"It's behind the dream. We're just here feeling it with the throngs of people. It's amazing grace personified," Oprah Winfrey said.
Obama and congressional leaders formally bade farewell to Bush, and the now-former president took a presidential jet to Midland, Texas, shortly afterward. Video Watch Obama bid Bush farewell »
After taking a motorcade to the White House, Obama and his family will watch the inauguration parade from a reviewing stand. The parade begins at 3:45 p.m. ET.
The new president and first lady will close the night by attending 10 official inaugural balls.
In addition to Secret Service, the security effort will involve 8,000 police officers from the District of Columbia and other jurisdictions, 10,000 National Guard troops, about 1,000 FBI personnel, and hundreds of others from the Department of Homeland Security, the National Park Service and U.S. Capitol Police.
This article found at
CNN.com